Luis Cantu, a UCI undergraduate participating in the School of Biological Sciences Minority Science Programs (MSP) received an award for his research presentation at the poster competition of the 2019 annual meeting of the American Association for the Advancement of Sciences (AAAS) in Washington, D.C. The AAAS is the world's largest general scientific society. The research poster competition is open to undergraduate and graduate students from domestic and international institutions. His award was recognized in the March 2019 issue of Science and on the AAAS website ( https://www.aaas.org/resources/2019-aaas-student-e-poster-competition-winners-and-honorable-mentions ).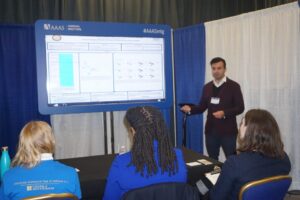 Medicine and Public Health
First place winner: Luis Cantu and Luis Mota-Bravo (PI), University of California, Irvine How are Antibiotic Resistant Genes Distributed Among Bacteria Species?